Providing Clean Water to Those in Need
There are many areas in Haiti, Dominican Republic, Central and South American where local residents do not have access to the clean, potable drinking water we take for granted in the United States. In fact on a worldwide basis there are over 800 million people who are drinking contaminated water daily. Nearly 25,000 children die every day from totally preventable diseases, many of which are water borne. That means over 1,000 children are dying each hour from totally preventable diseases.
3.8 million Haitians do not have access to clean water
Haiti is the poorest country in the Western Hemisphere with 54% of the population living on less than $1 per day
1 in 8 Haitian children do not live to 5 years old (12.5%)
Dirty water kills more people than all forms of violence, including wars!!!
What We Do
Turning Point Missions, Inc. provides both household 5-gallon filters and water filter systems that can serve an entire village. These filter systems utilize hollow membrane technology which is extremely efficient at removing contaminates from polluted water.
How It Works
As part of our installation process, we teach family members and/or church/village leaders how to maintain their filters so that they will provide them with years of service. The hollow membrane technology and filter components we utilize are purchased by Aqua Clara International, a Holland-based non-profit whose purpose is to design and disseminate clean water technologies for those who live on less than $2/day. Aqua Clara's technologies are now in place in over 30 countries and generate more than 2.6 million liters per day of clean water. TPM will continue to make improvements in our filter systems based on the developments Aqua Clara realizes in its R&D program.
What It Costs
Depending upon the cost of PVC piping, valves, five gallon buckets and other filter components in various countries, we can usually build a family 5-gallon filter for between $40 to $50 each. When properly maintained they can provide clean drinking water to a family for years. A village water filter system serving 800 to 1,000 people from one central well location costs between $6,000 and $7,500, again dependent upon the various material costs in country. That means an investment of less than $10 provides a person clean water for years.
A village wide system consists of a small, secure building which houses the filter components, well with submersible pump, and gasoline generator to operate the pump. An elevated tank is located next to the building and serves as the raw water reservoir for the filters. Outside the building are three spigots from which the local residents can obtain clean filtered water. If the well is near a church or school we try to run a filtered water line to the area where food preparation is done for the school children or church activities.
Constructing Village of Campion Water Filter System
Turning Point Missions, Inc. partnered with Cross Pointe Church of Madison, Alabama to build this system. Since October of 2013, over 1 million gallons of water has been filtered, serving 800 people plus a church and grade school. The filtered water has eliminated water borne diseases for those families using it for drinking and cooking.
Turning Point Missions Partners with Living Hope Mission (Haiti)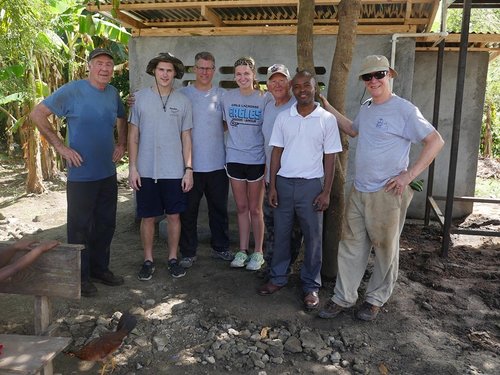 The Turning Point Mission's Haiti team with Pastor Claye from the Village of Fosse Capoise. This filter building is one of three new systems constructed in March of 2017. It serves a village of 1000 people plus a grade school and church.
TPM, Inc partnered with Living Hope Missions in Cap-Haïtien to provide clean, filtered water to three villages in 2017. These systems serve nearly 3000 people in the villages of Fosse Capoise, Belvoir Lemonade and Lemonade plus three churches and three grade schools. Plans are in the works to construct twelve (12) more village systems in other locations where Living Hope Missions helped start churches and schools. The estimated cost to complete these systems (12) is $90,000. We have about 1/3 of the necessary funds to complete these projects – please consider helping us raise the remaining funds needed to complete these projects.